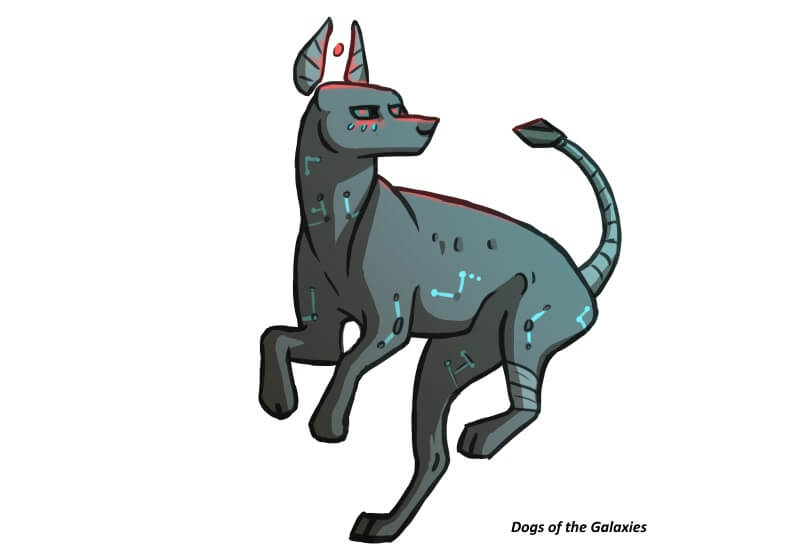 Cyborg Dog is nothing short of amazing. This techno dog has so much sophisticated machinery in and on his body that he often gets mistaken for a robot. But a robot he certainly is not. Usually it's the little pups who exclaim out loud "Hey it's a robot" when they see Cyborg Dog. Then he shrugs his bionic shoulders and smiles at the puppies. He is not that forgiving though when it comes to supposedly mature dogs pointing at him, calling him names. You would expect that by now everyone in the galaxies knows Cyborg Dog. Apparently though, he does not like drawing attention and is pretty quiet.
When last year another ignorant, very hairy hound yelled ROBOT so loudly that everyone could hear her, Cyborg Dog decided to stop this rude behavior once and for all. Cyborg Dog lengthened his legs, towering high above the onlookers. He turned up the volume of his speakers, and took a deep breath (this ordeal took some confidence, you know, and that doesn't come naturally to this cyberpunk dog).
As soon as he said one word, the entire galaxy started vibrating. Everyone looked up and noticed Cyborg Dog, even from far away. With a steady voice, Cyborg Dog made it clear that he did not appreciate his robot nickname. He was not designed to digest intellectual input from another creature. He was created to stretch the capacity of the dogs of the galaxies by using new technology and modern materials. But he himself is in charge of what he does and when he does it. Let that be clear. He continued announcing: "Those creatures who continue taunting me will sorely regret it. I am done. I will not tolerate being called names anymore."
The message was clear and ever since that important announcement, the other dogs treat Cyborg Dog with respect. They have even tried to get to know him more, to better understand what Cyborg Dog is and what he can do.
The space animals don't get a lot of feedback from him though. Cyborg Dog is happy that things are finally peaceful and quiet around him. At this point he smiles when a new litter comes around and he hears mom explain what Cyborg Dog is. It looks like while name calling is no problem anymore, he should spend some time with his fellow dogs explaining what he is and can do. The weirdest, most extreme stories still go around about him – all positive of course, but definitely a little exaggerated.
Cyborg Dog can for example not suddenly grow wings and rescue someone from another planet. Neither can he make himself invisible. But he can run incredibly fast with his adjustable legs, which are made to withstand even the heat of burning flames. But you know how it goes. Even the dogs of the galaxies love to gossip, so who knows how long these spectacular stories will keep going around.