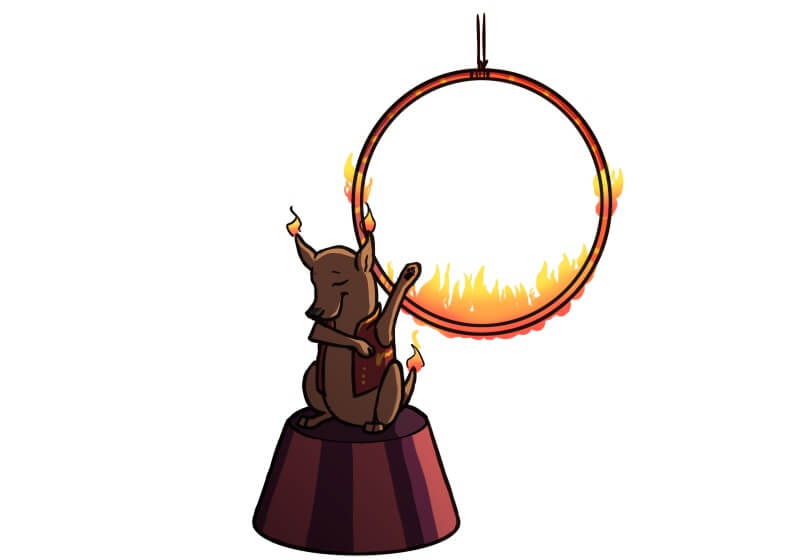 You would expect that Circus Dog is an acrobat, or maybe a clown, or a tightrope walker. Nothing could be further from the truth. Circus Dog is quite the show master; that has to be said. He knows how to please a crowd and entertain them all night long. And depending on Saturn, those nights can be really long.
Circus Dog was born in a family of entertainers. His dad specialized in moon bouncing, while mom would swing trapeziums between planets. Circus Dog has a sister who bikes the Milky Way on a unicycle and two asteroid-juggling brothers. Circus Dog is the baby of the family. For him there was only one path in life: he had to join the circus just like the rest of his family. Circus Dog is not a fan of anything that requires him to be limber, silly or super strong. If it was up to him, he would not be anywhere close to the ring.
Somehow he had to find his way. If he was destined to be a performer, he had to figure out what he liked and where his talent was. After all, there was no way to escape the family trade. So Circus Dog decided to go along.
He practiced with the acro dogs and almost missed the next planet. He bounced moons until he fell on his nose for the dozenth time and since this was all very funny, he tried it again in a clown's suit.
But Circus Dog was miserable. He announced to his family that he wasn't in a thousand years stepping foot in a circus again, "Because, ladies and gentlemen, life is too short to waste it." Circus dog made his announcement with so much panache, finishing off with a flamboyant bow, that his whole family fell silent. He could tell that their silence meant sadness – sadness that he was exiting the ring. That could only mean one thing: they loved his performance. They were sad to see him go. Suddenly, Circus Dog realized what it was that he was meant to do. He could still be part of the Circus, without really playing a part.
Since that memorable day, Circus Dog has been Circus Master. The crowds love him. He feels at home with the circus performers but is happy not to be one of them. While the others practice and fine-tune their acts, Circus Dog gets to sit around and do absolutely nothing. His job as a circus master comes so naturally to him that he can lean back and relax all day long. All he really needs to do is keep his vocal cords in shape. Cocktail anyone?
Is Circus Dog going to jump though a ring on fire or balance a tightrope any time soon? Not a chance.