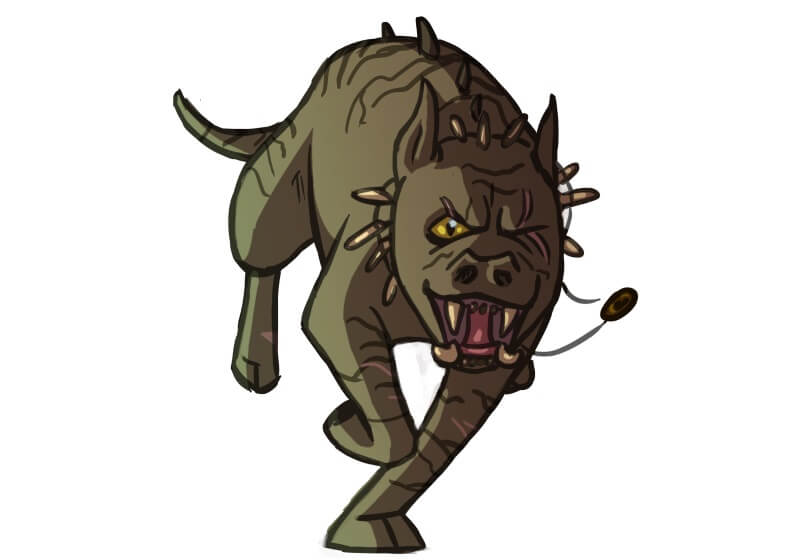 Nobody wants to be friends with Orc Dog. This dog is vicious and mean to every creature in the galaxies. Living life with absolutely no friends does not seem to bother him one bit. Orc Dog is grumpy, unpleasant and he emits the nastiest of odors. When other space animals see him coming around a corner, they run off to avoid his nasty personality and the horrific smell of rotting teeth.
Time and again, a young dog, not yet impressed by Orc Dog's infamous behavior, has reached out to make acquaintance with the cruel spirited dog. One would expect that Orc Dog would graciously accept the hand shake and go about his way. This is not the case with him. He simply shows his teeth and growls. Who does the young dog think he is? What nerve to breath the same air as he, the fearsome Orc Dog? The young dogs typically learn their lesson and get out of Orc Dog's way.
But then there is this little chihuapwap. This tiny, guinea pig-like space dog, has decided that he is destined to be Orc Dog's companion. Nobody knows why he is so set on it, and no one gets what makes this chihuapwap so incredibly brave. After all, more than once has Orc Dog snapped at him, in a fruitless attempt to change the chihuapwap's mind and chase him away once and for all.
It was only last week that another one of those episodes took place on an out of orbit star. Orc Dog got so pissed off, that he grabbed the chihuapwap by the tail and flung it into space. He did not realize, though, that the tiny dog launched into orbit around a nearby moon, and landed right back on Orc Dog's back. The dogs around him stared in disbelief. What was the chihuapwap doing there? Did Orc Dog finally make a friend? Was the chihuapwap just as mean as Orc Dog? What was going on?
The chihuapwap was not mean at all, but he certainly could use some help. Help from a strong and maybe even vicious partner. In order not to get run over by other Galaxy Dogs, the chihuapwap figured out that he could hang out with the monster of the Galaxies, Orc Dog, and in return help Orc Dog clean his teeth. But the problem was that Orc Dog didn't feel that he needed anyone – no friends or buddies.
But Orc Dog didn't mind clean teeth. The only downside to having one was this: he worried that others may become less afraid of him if he showed sharp teeth that was clean. That would mean he had begun caring; he was getting softer.
Don't get this wrong – Orc Dog is all but friendly with the creature riding on his back. In reality, he tolerates him for a reason. The little chihuapwap could come in handy if Orc Dog ever decides he wants clean teeth.
And the chihuapwap? He is finally able to finish a meal before it gets stolen from right under his nose; and these days, he can actually take a quiet, uninterrupted nap. As for Orc Dog's teeth, all the chihuapwap needs to do is order some other dog in the milky way to brush and floss Orc Dog's teeth. After all, who would dare to say no to the monster duo?
Chihuawap smiles quietly to himself at the idea of other dogs becoming even a little afraid of him solely on account of their seeing him ride on Orc Dog's back. He likes the thought.