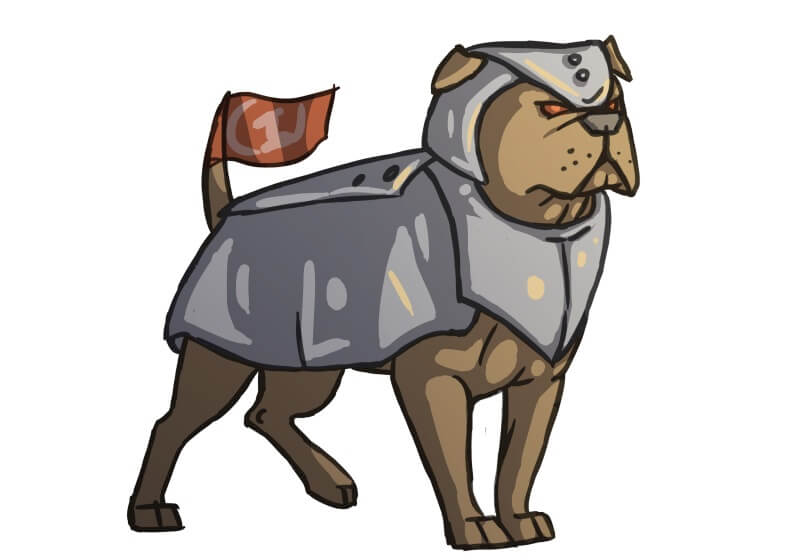 Armored Dog is our famous knight in shining armor, and he knows it. Prancing around the galaxies, all eyes are on him as he searches for any damsels in distress. Said lady dogs bat their eye lashes and when he glances in their direction, their soft cheeks turn red. Armored Dog is charming and a real gentleman. He cares about his grooming, looking smart and smooth as he does his rounds.
When he needs to come into action, he couldn't care less about his looks or his status. When there is the need for him to show what he is worth, he sheds his bells and whistles, sharpens his nails and bares his teeth. Never has he lost a fight, nor will he ever let that happen in the future. Armored Dog takes his destiny extremely seriously and keeps the galaxies safe.
However, we are going to let you in on a little secret. The galaxies are actually already extremely safe. Many females are larger, stronger and more apt to defend themselves and their brood than most male space dogs. They know that when it comes to staying safe, they cannot lean on one Armored Dog to prevent harm and harassment. Female space dogs need to be able to fend for themselves.
They keep Armored Dog unaware of this though. They like him, adore his manners and would never hurt his feelings. So they play along when they feel it's time to stroke his ego, and take turns in who needs to be rescued from a mean out-of-galaxy villain. Never would they have expected that one day the ladies would truly need Armored Dog's help.
It was a lazy Sunday afternoon, when puppies were playing and nobody was particularly interested in the intergalactic cosmic ray streamlining project that had been dragging on for weeks. Some dogs were having ice cream, others were playing ball or taking a nap. No dog noticed the infiltration of a space shuttle with three astronauts from Earth, who had noticed the discrepancy in ray strength. When they got closer to check things out and got sight of the Dogs of the Galaxies, the astronauts thought it was a great idea to bring a space dog back to planet Earth. Little did they know about the population of space dogs and the consequences of kidnapping one. Everything was so peaceful, one dog would surely not be missed. They had obviously never met Armored Dog.
Armored Dog could sense right through the ice cream he was enjoying along with the other dogs that something was off. He dumped his treat and his ears pricked up. Before anyone else in the galaxy understood what was going on, Armored Dog was on the next microwave following the space ship. He saved the captured dog and got her back to their galaxy.
Without even being aware of it, he had proven that there is only one Armored Dog and that you would not want to be without him.